Our Goal Then and Now: Delight Our Customers
"Since 1987, I've been working on professional software solutions for companies, and even before founding CP-Pro, I developed a technical program for scaffold design and materials definition. The main reason for founding my own company was to be better than the existing software products, and to truly delight users. Ultimately, I wanted to simplify all parts of both the business and the technical sides of a scaffolding company.
From Vision to Success – and Beyond!
In early 1995, I started to bundle my knowledge of the scaffolding industry in a new standard software, calling it "CP-Pro Scaffolding Office." With a generous portion of knowledge and passion, we're continuing to develop our scaffolding software, and also working on clever individual software solutions. We've grown into a sizable team, and no longer make software exclusively for scaffolding companies, but also have completed extensive projects in the travel, automotive supply, plastic film, and medical industries. With our two business areas, we've been so successful that, in 2020, we founded two separate companies for them: CP-Pro Solutions for scaffolding software solutions, and CP-Pro Software for individual software.
Have we reached our goal? Is our software better than the others? We'll let you be the judge! We're always excited to receive positive feedback from our delighted customers. And every year, more companies switch to our software."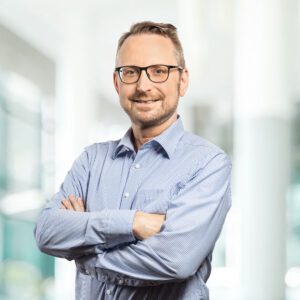 Founder and CEO Gregor Clausen
/ We are part of the